Previously, when shopping for heat-resistant gloves you were limited to either MIG or TIG leather gauntlets – this, however, is no longer the case! In 2020, there are a plethora of different heat-resistant gloves available on the UK market, all suited to various different tasks with different associated risks.
Gloves which are intended to protect against thermal hazards will have been tested to the standard EN407. This test compromises of 6 different areas with a different performance level for each and these performance levels can help to indicate where the product is deemed safe to use.
Heat-resistant gloves will also be classified as either Category II or Category III:
Category II: signifying gloves of intermediate design, used for applications where risks are neither classified as minimal or irreversible
Category III: signifying gloves of complex design, used for applications where risks are classified as irreversible or mortal
This blog will reference the different styles of heat-resistant gloves available, and the applications which these products suit.
MIG Gauntlets:
MIG Gauntlets typically offer higher levels of protection in being a more heavy-duty design with additional padding – these are used for applications such as metal fabrication and forging, often working with larger materials which generate sparks – hence a more heavy-duty product.
At Just 1 Source we are renowned for the quality and consistency of our leather products, including our MIG and TIG gauntlets… you can see our range of MIG gauntlets by clicking here.
Our most popular MIG gauntlet, however, can be seen below: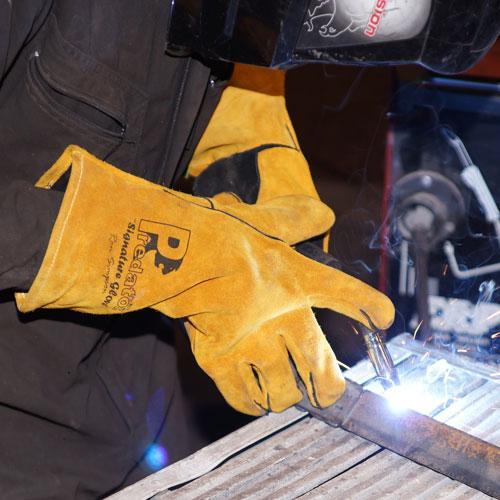 The Predator Signature MIG Gauntlet is one of our flagship products and, to this day, remains a top-seller for Just 1 Source. Features of the Predator Signature MIG Gauntlet include:
Top-quality split leather
Heavy-duty double-layer leather palm and thumb
100% cotton fleece lining
Twaron® heat-resistant thread with black welting
The option to buy in either left or right hand only
The Predator Signature MIG Gauntlet achieves 4234X under EN388:2016, and 41314X under EN407:2004.
TIG Gauntlets:
TIG Gauntlets are a much more dextrous and thinner, more supple leather. This provides the user with enhanced dexterity and tactility for much more intricate welding tasks, allowing more precise manipulation of the welding torch and metal wire. TIG welding is much more common in tasks such as car repairs or the aerospace industry.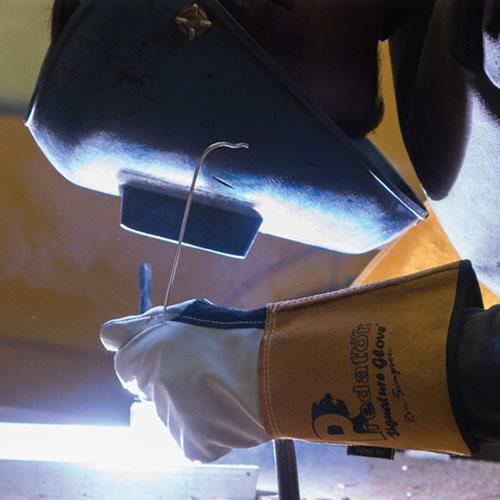 Coated Gloves:
As technology and materials have developed over time, we have seen an increase of knitted and coated heat-resistant products on the market. The evolution of these types of glove has improved the efficiency of many tasks in the workplace, in offering a different solution to a leather gauntlet – some of these tasks would be completed in industries such as gas and oil, or engineering.
As these gloves often contain fibres such as 'Aramid', 'Twaron®' and 'Kevlar®' (to name a few well-known brands), they often also result in a high level of cut resistance.
We have 2 gloves that fit within this remit, which can be seen below: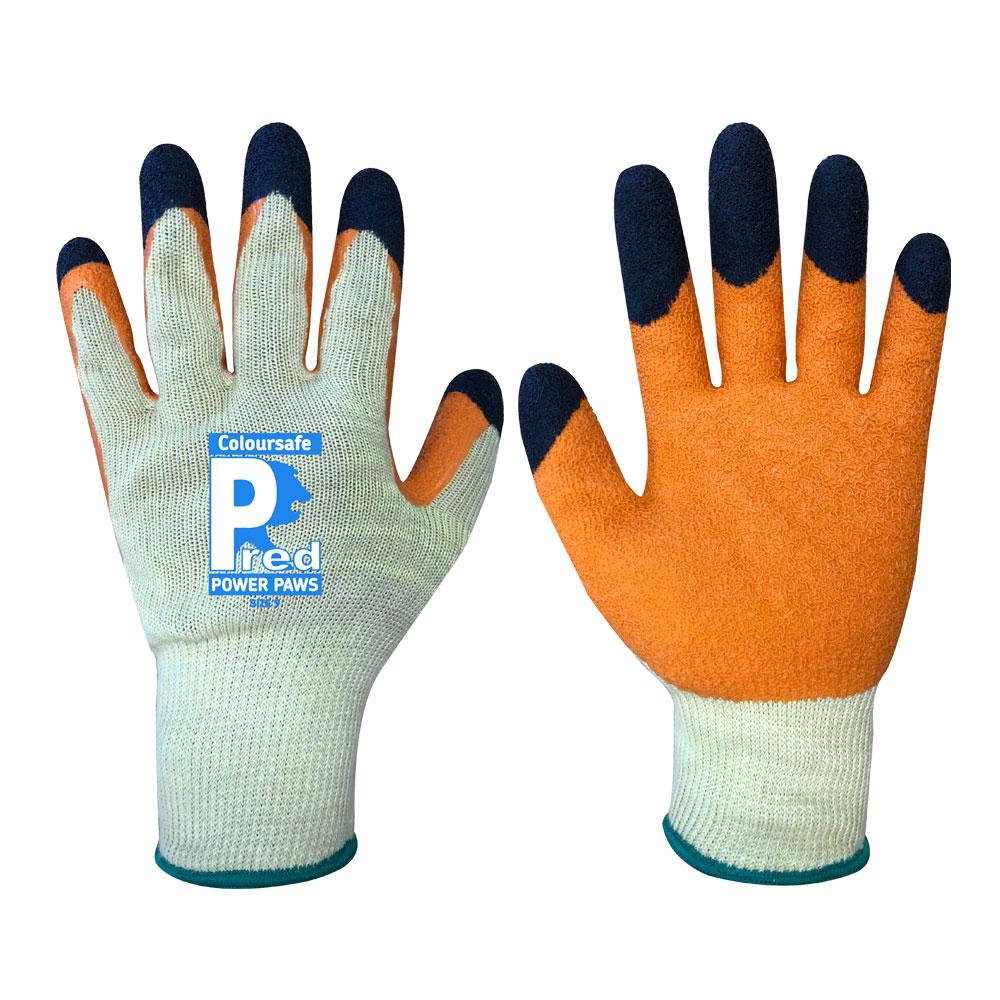 Pred Power Paws
The Pred Power Paws is one of our latest additions to our portfolio, which has already been incredibly well received by the market. Features of the Pred Power Paws include:
Breathable, Aramid & polycotton liner
Crinkle latex palm coating for great grip
Double-dipped fingertips for increased wear and overall longevity
Cut level E protection for high-pressure cut applications
Contact heat level 2 resistance – up to 250oC
The Pred Power Paws achieves 3X44E under EN388:2016, and contact heat level 2 under EN407:2004.
The Pred Impact is part of our The Touchsafe range and has arguably the highest specification of any of the products in our range. Features of the Pred Impact include:
18 gauge TekArmor™ liner
Palm coated in revolutionary PolyMAX™ – click here for more information on PolyMAX
Padded palm, reinforced thumb-crutch
TPR back of hand impact protection
Durable coating performs incredibly well with oils and grease
The Pred Impact achieves 4X42FP under EN388:2016, and achieves contact heat level 2 under EN407:2004.
Knitted products:
When we refer to knitted heat-resistant products, we are talking about any woven fibre or knitted form of glove, gauntlet, or sleeve – this could include terry-cloth gloves, oven mitts, and more…
Like with coated products, these items are likely to include well known heat-resistant fibres, such as Twaron® or Aramid, offering a good level of cut resistance.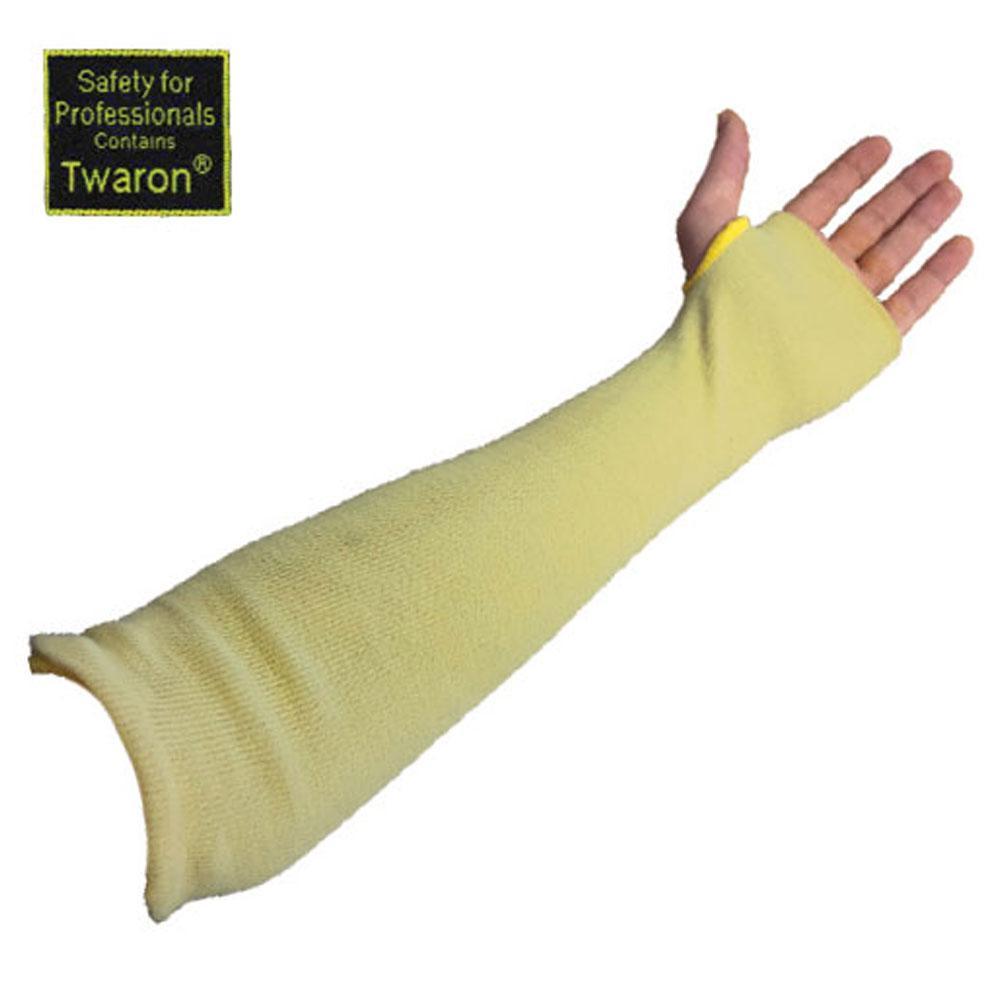 The Twaron® Heat-Resistant Sleeve is available in 14″ and 18″ with a stretch fit to suit all sizes. The Features of the Twaron® Heat-Resistant Sleeve include:
Seamless woven Twaron® sleeve
Thumb hole and elasticated, cuffed ends for a secure fit
Cut level C protection against EN388:2016
Contact heat level 2 resistance against EN407:2004
Twaron® has no melting point, only starting to degrade around 500oC
Foundry Gauntlets:
Foundry gauntlets can look incredibly similar to MIG gauntlets, with split-leather often being the main material used. Foundry gauntlets do however follow a much more complex design, fitting into the Category III classification, and can be seen to have additional parts and materials to suit different applications.
Foundry gauntlets offer superior resistance in intense temperatures due to the areas they are intended for use in, these include working with molten and cast metals, heat treatment processes, hot-glass works, forgery, or ceramics.
---
If you are interested more information on the above standard, or on any of our heat-resistant gloves, you can contact us via the below:
Call – 01653 617718
Email – sales@just1source.com